Technical Assistance Projects
---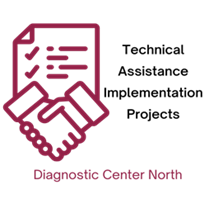 Technical Assistance Implementation Projects are individually designed to meet specific LEA or SELPA needs. Projects are designed to provide in-depth content training and multiple levels of follow-up support including hands-on coaching and technical assistance with on-site collaboration. These projects include multiple service days that may be interspersed over a period of weeks, months or several years to ensure sustainability and scaling up.
General Requirements:
Evidence of administrative support for the project must be provided
Participants must be part of district, SELPA or County Office of Education team
All participants must commit to fully participate in the training project and agree to "homework" and attempting recommendations/strategies between sessions
How to request:
Due to our time commitments, projects are available on a limited basis. If you have an idea or a need for a technical assistance implementation project and would like to start something this year, please contact the Diagnostic Center Director, Gloria Mau at 510-794-2500; gmau@dcn-cde.ca.gov. Depending on your request, we may be able to initiate a project this school year.
Possible project topics include (but are not limited to):
Autism Spectrum Disorders
Students with Intellectual Disabilities
Best Practices for Secondary Transitions
Multi-Tiered Systems of Support (MTSS) and Special Education
Social-Emotional Learning in the Classroom