Social-Emotional Learning Forum
---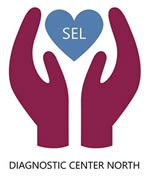 The School and Clinical Psychologists of the Diagnostic Center-North invite all special education teachers and direct service providers to join in a virtual series of zoom sessions dedicated to Social-Emotional Learning (SEL).
April & May 2021 | Via Zoom
The forum will be presented as a series every Tuesday across four weeks:
Tuesday, April 20th (2-4p) - Welcome Session & Supporting Parents with SEL at Home
Tuesday, April 27th (2:45-4p) - SEL in the Classroom
Tuesday, May 4th (2:45-4p) - Writing Measurable IEP Goals for Promoting SEL
Tuesday, May11th (2:45-4p) - How to Build SEL Skills Using Everyday Opportunities
Registration for our Social-Emotional Learning Forum 2021 is now closed. Video recordings will be posted soon.
Quick Links

External link opens in a new window or tab.