Bootcamp for Early Career Teachers
Bootcamp for Early Career Teachers Supporting Students with Extensive Needs, Monday, 6/14/2021 to Wednesday, 6/16/2021.
---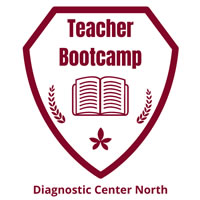 Presented By: Natalie Corona and Tara Zomouse
What: A hands-on and interactive experience for early career teachers to increase their implementation
of best practices within the learning and behavior intervention domains. Participants will gain
deeper understanding of how to design and maintain effective classroom settings for students with extensive
(moderate/severe) needs.
Who: This bootcamp is designed to support classroom teachers who support students with extensive needs. It
is recommended that participants be teachers who are either: credential candidates, student teachers,
interns, and those within the first 2-3 years of teaching special education. Content of the bootcamp will be
applicable for teachers at all age/grade levels.
When: Presented as a series across 3 days, the week of June 14th, 2021
Part 1: Monday, June 14th, 2021
9:30-11:30 am - Linking Cognition, Assessment, and Classroom Functioning
Participants will review the basics of cognition and assessment and how to connect assessment results
with classroom functioning.
1:30-2:30 pm - Workshop
Collaborative workshop opportunity. Participants are encouraged to bring questions from the morning
session, work on recommended assignments, and get feedback from instructors.
Part 2: Tuesday, June 15th, 2021
9:30-11:30 am - Structuring Direct Instruction (DI) Throughout the Day
Participants will learn how to incorporate direct instruction into the school day, create DI groups, and
use DI strategies.
1:30-2:30 pm - Workshop
Part 3: Wednesday, June 16th, 2021
9:30-11:30 am - Developing and Utilizing a Class-wide Reinforcement System
Participants will learn about different class-wide reinforcement systems and how to create and
implement one for their classroom.
1:30-2:30 pm - Workshop
2:30-3:00 pm - Closing and Follow-up
Where: Virtually via Zoom
For questions or registration details email: Contactus@dcn-cde.ca.gov
Quick Links

External link opens in a new window or tab.